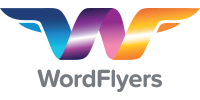 Need some technical support for WordFlyers?
We're here for you. WordFlyers can be accessed by PC, Mac, iOS and Android devices as well as Windows tablets & Chromebooks.
Below is a list of technical requirements to access WordFlyers.
Minimum Requirements
Recommended Specifications
Operating System
Windows 8 or later, last 4 versions of Mac OS X
Windows 10 or 11, latest Mac OS X version
Processor
AMD E1-1200 1.4GHz
Intel Core i5 (or better), AMD Ryzen5 (or better)
Video
AMD Radeon 7310
Memory
6GB RAM
8GB RAM (or better)
Sound
Working sound card
Internet
Broadband Internet connection
Input
Keyboard and mouse
Resolution
1024 x 768 minimum display resolution
 1280 x 1024 recommended display solution
Group Policy
The following file extensions should be allowed in the group policy:
Minimum
Recommended
Chrome
Last 4 major versions
Latest version
Edge
Last 4 major versions
Latest version
Firefox
Last 4 major versions
Latest version
Internet Explorer

Internet Explorer 11

We will be further reducing support for IE11 as of August 2021. Your experience may be degraded while using IE11 after August 2021, with limited support options available after this date. If you experience any issues while using IE11, you will be required to switch to a supported browser.

Safari
9, 10, 11
Latest version
Users on Chrome 55 should upgrade to Chrome 56.
Due to the nature of computer errors it can be very difficult to diagnose compatibility issues without seeing them in action. We would recommend having your IT technician investigate them in the first instance.
If you do come across a technical issue, please try the following:
Refresh the page
Check firewalls / security settings / content filters as sometimes this blocks content, like sound
If you're experiencing issues using Internet Explorer, please try a different browser such as Firefox or Google Chrome
Clear your cache: http://www.wikihow.com/Clear-Your-Browser's-Cache
Modify proxy/content filter settings to accept larger files up to 5 MB in size
If traffic from our CDN is not cached, there will likely be an unnecessary increase in bandwidth expenditure on the school's network. The relevant URL to cache is:

*.readingeggs.com
*.readingeggsassets.com
Minimum
Recommended
Mobile Phone
For an optimal experience, we recommend using a desktop, laptop or tablet device rather than mobile phone due to the small screen sizes
For an optimal experience, we recommend using a desktop, laptop or tablet device rather than mobile phone due to the small screen sizes
Tablet
Last 5 versions of iPad devices
Latest iPad, Latest iPad Air, Latest iPad Pro
Operating System
Last 4 iOS versions
Latest iOS version
Browser
Latest version of Safari
App
No app available
Internet
Wireless internet connection is required whilst accessing the program.
Device orientation
Landscape mode recommended
Minimum
Recommended
Tablet
Samsung Galaxy Tab 4 8.0″
Samsung Galaxy Tab A 7.0″
Operating System
Android 6.0+
Latest Android version
Memory
1.5GB RAM
1.5GB+ RAM
Browser
Latest version of Chrome
Access
Simply log in to your account using Google Chrome version 29.0 or later. Google Chrome is available as a free download from the Google Play store.
Device orientation
Landscape mode recommended
Phones are not supported
Access via browser. Not available in app store.
Reading Eggs is available and accessible on Chromebooks, however please note there may be some minor user experience issues with some areas of the site.
Whitelisting IP Ranges and Domains
In order to provide the best experience to the millions of users around the world, 3P Learning programs use a variety of IP ranges and domains. If you are accessing via a network, or school-based system, you may need to update your school's proxy/content filtering systems to allow access to Mathseeds.
*.wordflyers.com.au
*. denotes a wildcard including all sub domains. Some proxy filters accept wildcards simply as .wordflyers.com.au
student.wordflyers.com.au
teacher.wordflyers.com.au
*.readingeggsassets.com
*. denotes a wildcard including all sub domains. Some proxy filters accept wildcards simply as .readingeggsassets.com
*.typekit.net
*. denotes a wildcard including all sub domains. Some proxy filters accept wildcards simply as .typekit.net
*.tiles.mapbox.com
*. denotes a wildcard including all sub domains. Some proxy filters accept wildcards simply as .tiles.mapbox.com
If you do come across a technical issue, please try the following:
Refresh the page
Check firewalls / security settings / content filters as sometimes this blocks content, like sound
If you're experiencing issues using Internet Explorer, please try a different browser such as Firefox or Google Chrome
Clear your cache: http://www.wikihow.com/Clear-Your-Browser's-Cache
Modify proxy/content filter settings to accept larger files up to 5 MB in size
If traffic from our CDN is not cached, there will likely be an unnecessary increase in bandwidth expenditure on the school's network. The relevant URL to cache is:

*.readingeggs.com
*.readingeggsassets.com
It is essential that content relating to the IP address for our web server (corresponding to wordflyers.com.au) is not cached. All other content should be cached. To determine the IP, run the following in the command line (If using Windows computer, please download dig dns tool before running these commands):
dig +nostats +nocomments +nocmd wf-student-app-production-2113347585.us-west-2.elb.amazonaws.com
dig +nostats +nocomments +nocmd wf-teacher-app-production-1371670232.us-west-2.elb.amazonaws.com